the importance of a Salon Website for your business.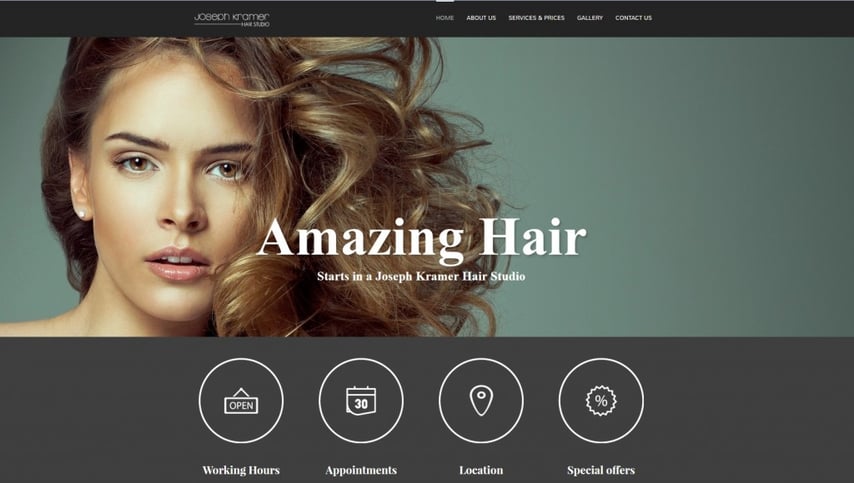 Joseph Kramer Salon Website provided by DigitalSalonGroup.com (formally Beutifi.com)
The world has moved online. Consumers nowadays have instant access to products, services, pricesand information worldwide – technology is shaping how they shop.
The impact of how the millennial generation (a key target market for your salon) consume products and services has been huge and this is not slowing down, with them spending up to 4.5 hours per day online.
According to research carried out in the US, $2,200 (€1,952) is the average amount spent on a website by local businesses, so it's no wonder that approx 70%-80% of salons have no website presence at all, with many only having a Facebook page.
BEUTiFi.com has the mission of moving the hair & beauty sector online, giving all salons a hassle free and very affordable online presence and making it simple for clients to find and book salons online.
We have put together the Top 5 reasons why your salon needs a website:
Reach New Customers:
Having a salon website is especially important for small businesses. According to a study carried out by Neilsen, 85% of customers use the internet to find a local business with 59% of mobile users who look for local information visiting the business on the same day!
Salons must understand that the first port of call for many potential new clients when searching for anything is online via their mobile phones and not embracing this is like saying 'I don't want any new clients'.
Help existing customers find you:
According to research carried out by ComScore, the No.1 reason for doing an online search is to find the location for a 'known' business. Your salon needs a good, clean and responsive website to help your existing customers find you.
Open 24/7:
A salon website ensures that your business is essentially open to clients 24/7. With the busy lifestyles many of your potential clients have today, a huge number of potential customers are researching products and service providers in the evening, when your salon is closed. It's key that your business can be found by these potential customers even when your salon is closed, that you provide all information to help them make a booking decision and ideal allow them to make bookings online. Then you can literally make money when you sleep….
Credibility:
Research carried out by Brightlocal analysed the key things people look for in local websites. 68% of those surveyed said that having a website, ideally one that is well designed, is a huge factor in the opinion they hold about a business and directly influences their decision to use a local business. Consumers, especially the younger generation, give more credit to local businesses that have a clean and smart online presence.
Salon Website vs Facebook page
While Facebook is great, and one of many social tools that should be used by all salons to keep in touch with their existing client base, it was not designed to be a business's only online voice. A potential new client needs to be able to very easily access all relevant information they want, encouraging them to pick up the phone to book your salon or to book you online. No, the client does not want to spend 15mins searching through your photos for a picture of the price list you took 3 years ago This is far better served by your own salon website.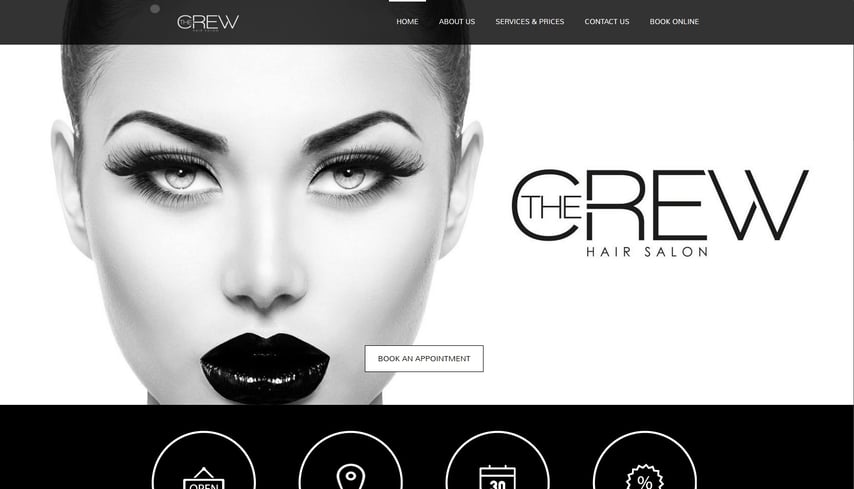 The Crew Salon Website provided by BEUTiFi.com
From speaking to hundreds of salons, the following is clear:
They understand the need to have a salon website and would like to have one
They don't have the time to organize it and get it built.
They don't want to spend a large amount up front
They don't want to have to manage it on an ongoing basis (SEO, Hosting, Domain name)
They don't have the technical expertise to deal with issues when they arise and need support in this regard. (Maintenance)
For all of the above reasons, BEUTiFi.com recently launched a new plan that provides salons with a simple, affordable and hassle free way to have a full salon website with ongoing support included. Our price starts at just €25 per month, allowing you to get connected to new clients at an extremely low cost.
This means you never have to worry about updating your website – We do it for you. You never have to worry about technical issues – We ensure there are none, and if there are, we fix them. We can add the online booking widgets provided by your salon software providers, meaning you can take bookings online. If you do not have a software provider, we can provide you with a simple way to take bookings online.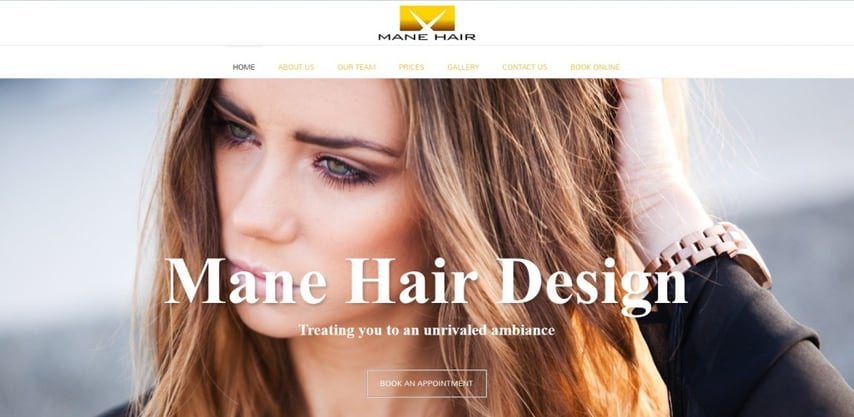 Mane Hair Design Salon Website provided by BEUTiFi.com
So, what do you get?
A beautiful, clean, simple to use high quality salon website, fully mobile responsive
Domain name registration, management, Hosting
Ongoing support & Maintenance
SEO
Marketing tips and advice on promoting your business online
Essentially we take all of the pain away from having a website, leaving you all the time you need to get on with running your business.

Find out how we can help you get found and get ahead of the competition by Auditing Your Web Presence for FREE today.

For more information, please call us on +353 1 685 3755.
�
References:
The Mobile Movement Study, Google/Ipsos OTX MediaCT , Apr 2011
Brightlocal Survey
ComScore, Neustar Localeze, Local Search Study 2014